Aqara Wall Switch D1 w/o Neutral
In stock
Easily upgrading without replacing the original lamps High-quality Wall Switch Customize different scenes with our suite of smart home products
No shipping cost by picking up at store
Roll over above image to zoom in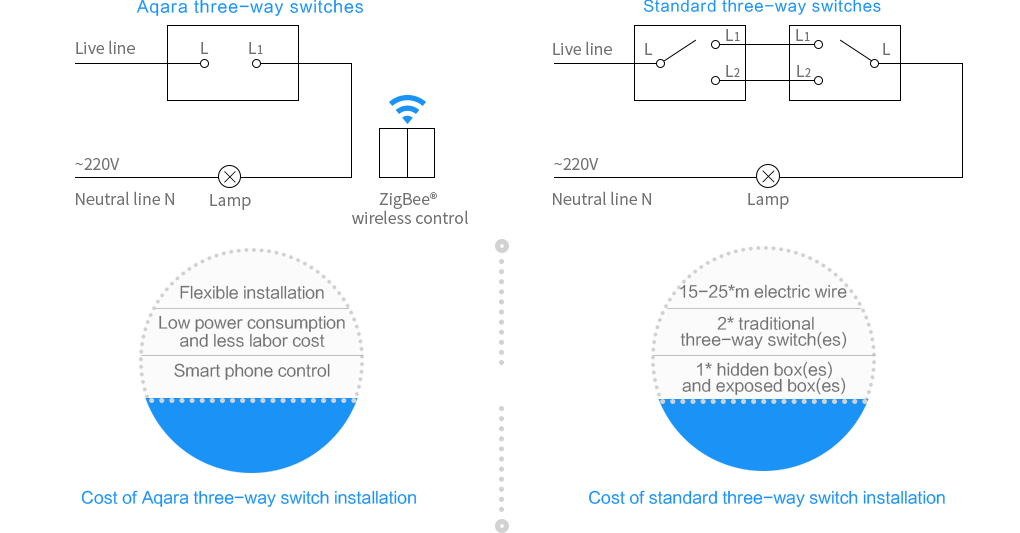 Aqara smart three-way switches vs. standard three-way switches
With three-way switches, you can control one lamp with two switches, e.g. Wall Switches at both top and bottom of stairs. Adding a 2nd wired switch requires pulling new wires which is labor intensive, time consuming, and intrusive.
Did your builder forget to install switches on both ends of a long hallway, or are there more convenient locations for your switches? With Aqara's Wall Switch, you can easily control the same lights from two or more locations without new wiring.
Easily upgrading without replacing the original lamps.
Aqara Wall Switch can be easily and rapidly installed without changing the original lighting equipment and circuit. Commonly-used lamps can be flexibly controlled only by replacing the traditional Wall Switch with an Aqara Wall Switch.
High-quality Wall Switch
The Aqara Wall Switch, when matched with a Panasonic 16A Pickup Resistance Relay, can control lamps from 3W to 1500W.
Equipped with atemperature detection chip and 5A fuse, it can automatically shut off when detecting a load greater than 1500W or the internal temperature exceeds 60 ℃. Supports up to 50,000 presses.
Instructions for installation
Each rocker of the Wall Switch (Aqara Wireless Remote Switch Double Rocker) controls one lamp. The switch can be installed in the following steps:
1. Turn power off at the circuit breaker, remove switch cover plate, remove existing switch, replace with Aqara Wireless Remote Switch Double Rocker, connect live wire of wall junction box to Input Terminal L, then connect the lamp wire of wall junction box to L1 and L2 (Note: The lamps connected with L1 and L2 are controlled by the left button and right button respectively), and finally tighten the screw. See the drawing below for wiring:
2. Remove the switch panel with straight screwdriver.
3. Secure the switch on the wall junction box with screw.
4. Press down the switch panel.
5. Turn on the main switch. You can confirm the Aqara Wall Switch is powered-on if the blue status indicator flashes once. Press the button, the switch is functional but not connected to a network when the red state indicator flashes slowly.
Download the client and install it according to the steps of "add device".
More Information

| | |
| --- | --- |
| Brand | -- Please Select -- |